Emergigroup Physician Associates | Clinical Locations
---
Houston Methodist San Jacinto Hospital
Medical Director: Neil Gandhi, MD
Since opening its doors in April 1948, Houston Methodist San Jacinto Hospital has provided our community with quality medical care. Through the years, we've grown with the community, enhancing and expanding our services every step of the way - we recently added the addition of scribes. Today, Houston Methodist San Jacinto Hospital offers comprehensive care for patients at every stage of life.
We offer a 24-hour, emergency care center for those unexpected circumstances. Our Emergency Room features 12 private rooms rather than wards with curtains. Immediately adjacent to the Emergency Room is a Fast Track Unit. This area is designed for patients who have minor emergencies or for patients who need observation and treatment, but not admission to the facility. Grouping minor emergencies in one area allows patients to be seen more quickly and efficiently, shortening the time patients spend in a typical emergency room.
26-bed Emergency Department
55,000 Annual ED Patient Volume
41 Hours of Physician Coverage
36 Hours of APP Coverage
10 and 11-Hour Physician Shifts
12-Hour APP Shifts
Scribe Coverage Available
Community Medical Center
Medhost
Houston Methodist's reputation for excellence in patient care and its commitment to improving patient outcomes represent a significant motivation in the development of six multidisciplinary centers of excellence. These centers foster cutting edge research leading to advanced treatment therapies and procedures.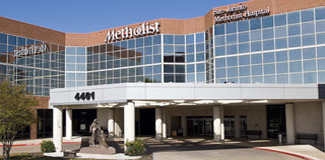 #1 Rated Hospital System
in Houston, Texas