Emergigroup Physician Associates | Clinical Locations
---
Houston Methodist Sugar Land Hospital
Medical Director: Scott Rivenes, MD
Since its opening in 1998, Houston Methodist Sugar Land Hospital has been growing and changing to meet the needs of Fort Bend and surrounding counties. Houston Methodist Sugar Land Hospital continues to build on its services to provide Leading Medicine, close to home.
The emergency department at Houston Methodist Sugar Land Hospital provides treatment to patients with a broad spectrum of illnesses and injuries. Understanding that in an emergency, time is of the essence, our Emergency Department remains committed to the rapid assessment and management of critical illnesses.
Our 24-hour emergency care area is staffed by Board Certified Emergency Medicine physicians and other healthcare professionals who are well prepared to handle critical care patients at any time, day or night.
24-bed Emergency Department with 4-bed Fast Track
40,000 Annual ED Patient Volume
35 Hours of Physician Coverage
24 Hours of APP Coverage
8 and 9-Hour Physician Shifts
12-Hour APP Shifts
Scribe Coverage Available
Community Medical Center
Medhost
Houston Methodist's reputation for excellence in patient care and its commitment to improving patient outcomes represent a significant motivation in the development of six multidisciplinary centers of excellence. These centers foster cutting edge research leading to advanced treatment therapies and procedures.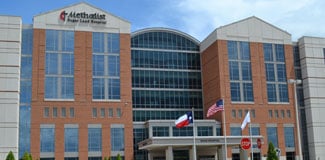 Houston Methodist Sugar Land Hospital brings the expertise, skill and up-to-the-minute technology of the world-renowned Houston Methodist