GSEP Emergency Medicine | Clinical Locations
---
Methodist Children's Hospital - San Antonio
Methodist Children's Hospital is the first hospital in San Antonio to be exclusively designed for child care. Our facility offers outstanding pediatric services in many specialty areas including pediatric heart surgery, pulmonology, orthopedics, neurosurgery, newborn and pediatric intensive care, oncology and emergency services.
Methodist Children's Hospital, a campus of Methodist Hospital, opened in 1998 as the only hospital in San
Antonio and South Texas designed and built especially for children. Colorful images and artwork enhance the walls to create a welcoming, child‑focused environment with play rooms on every floor. The emergency department completed a major expansion of its emergency services in 2009 and now features 32 individual treatment rooms, a new waiting room and main entrance to a new beautifully designed lobby. The Methodist Children's Hospital offers valet parking, a 24-hour pediatric emergency room, pediatric and newborn intensive care units, pediatric operating suites and special outpatient clinics for children with complex illnesses.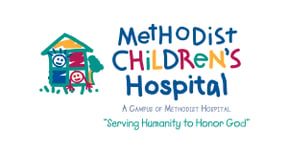 ---
Among the nation's largest providers of blood and marrow stem cell and cord blood transplants for children - over 500 transplants