Inova Loudoun Hospital Announces $500,000 ED Expansion Project
Leesburg, VA – Inova Loudoun Hospital, recognized for providing world-class healthcare to meet the needs of our growing community, announces that it is fast-tracking a renovation and expansion of its award-winning Lansdowne Campus Emergency Room. The new facility will support the emergency medicine team and EMS transport units with a larger, more efficient design, faster connections to care for patients.


The Inova Loudoun Hospital Foundation is thrilled to announce an exciting challenge: Mike and Teresa Wheeler and Dr. Edward Puccio and his colleagues at Commonwealth Emergency Physicians (CEP), a Virginia emergency medicine group that provides emergency services to the hospital, have stepped forward to donate $250,000 each toward the ER project, for a total of $500,000 to support this critical initiative. They are challenging the community to contribute tax-deductible gifts up to $500,000 that they will match dollar for dollar. This million-dollar match will jumpstart the ER campaign, which has an overall fundraising goal of $1.5 million.


"The reality is most of us will need to visit the ER at some point, whether as a patient, a family member or a friend. We've been patients in the ER and have total confidence in Dr. Puccio and his amazing colleagues, who provide excellent care to everyone who comes through the door. We are excited to join with them to challenge the community," said Teresa Wheeler.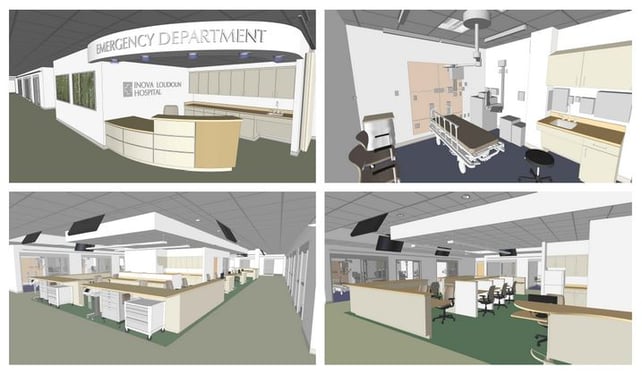 The new ER will increase the number of patient rooms, connecting the Adult and Pediatric Emergency Rooms while optimizing workflow to streamline emergency and critical care when every second counts. Triage will also be faster incorporating a new fast track suite; bedside registration and immediate bedding to convert wait time into diagnostic and treatment time. These enhancements will allow patients to receive care more quickly and spend less time in the ER.
"We are excited about this expansion project and thankful to Mike and Teresa Wheeler and Dr. Puccio and his colleagues for kicking off this campaign, and for inspiring others to join them in making a bigger, better, and faster ER a reality for our community. Our exceptional team of board-certified emergency medicine physicians, highly trained nurses and other skilled professionals looks forward to treating our patients in this new facility," commented H. Patrick Walters, CEO, Inova Loudoun Hospital.


The Emergency Rooms at Inova Loudoun Hospital treat more than 68,000 patients each year—including nearly 20,000 children who visit the county's only Children's Emergency Room.


CLICK HERE
to see the orginal article from the Inova Newsroom.
For more information about Commonwealth Emergency Physicians and their emergency medicine jobs in Virginia, please contact EMrecruits for more information. You can reach us at 877-379-1088, CEP@EMrecruits.com, or you may apply online with your CV.