Bethesda Emergency Associates | Clinical Locations
---
Suburban Hospital
Medical Director: Barton Leonard, MD
Suburban Hospital is a 233-bed community-based, not-for-profit hospital serving Montgomery County and the surrounding area since 1943. On June 30, 2009, Suburban Hospital became a member of Johns Hopkins Medicine. We serve Montgomery County as the only regional trauma center for the county, and only one of nine trauma centers within Maryland. We treat roughly 1,500 trauma patients each year.
The 26-bed Emergency Department has an annual volume of 47,208 and is classified as a Level II Trauma Center. A separate Pediatric Emergency Center is staffed 24 hours a day by an emergency pediatrician and specially trained pediatric staff.
41 Hours of Physician Coverage Per Day

Strong APP Utilization


Certified Stroke Center with NIH Stroke Team

Adult & PED Emergency Departments, in addition an OBS Unit
Key Statistics About Suburban Hospital
Suburban Hospital is an acute-care, medical-surgical hospital featuring all major services except obstetrics. Admissions total more than 14,000 annually.
Fully accredited by the Joint Commission on Accreditation of Healthcare Organizations.
Certified Total Joint Replacement Program by the Joint Commission.
Serves as the designated regional trauma center for Montgomery County, one of nine regional trauma centers in Maryland. Fully equipped with an elevated helipad. Treats about 1,500 trauma patients each year.
Certified as a Primary Stroke Center by The Joint Commission and the Maryland Institute for Emergency Medicine Systems Services. (MIEMSS)
Certified Cardiac Catheterization Program by MIEMSS.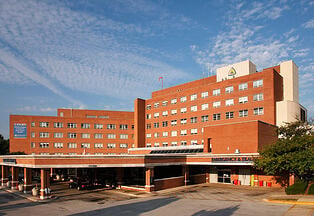 Proud Member of Johns Hopkins and affiliated with the National Institute of Health