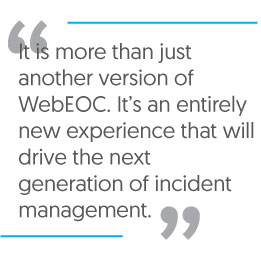 WebEOC Gets New Look & Optimized Workflows in Latest Version Announced by Intermedix
Intermedix Corporation announced Tuesday the release of the eighth version of its incident management software WebEOC.
The WebEOC software has been a staple in web-based incident management operations for more than 10 years. The solution is currently used in more than 25 countries, by 53 U.S. federal agencies and in more than 600 state and local government agencies.
The newest version of WebEOC features an enhanced user interface that provides users with a more fluid experience. In addition, optimized workflows simplify the user's ability to access significant information during an incident.