Shawnee Mission, Kansas | Community Overview
---
An Unrivaled Sense of Community
The City has an unrivaled sense of community. Annual events include the St. Patrick's Parade and Duck Race, Beauty and The Best, the Scarecrow Festival, Historical Hauntings, Christmas Around Town, Octoberfest, Shawnee Great Grillers Barbecue, Tour de Shawnee, and the Summer Concert Series. The biggest event of the year is Old Shawnee Days, held the first weekend in June since 1967; it marks the start of summer for thousands of families who come to enjoy an amazing weekend long celebration. Shawnee Town 1929, the City's museum, comes to life with living history programs, events, and guided and self-guided tours focusing on Shawnee at its zenith - a prosperous, family-oriented farming community where Belgian and German immigrants sold their fruits and vegetables at Kansas City's farmer's market.
Outstanding Parks and Recreation
One of Shawnee's strengths and sources of pride is its outstanding parks and recreation programs. Shawnee has 629 acres of City parkland, 695 acres of subdivision open space, and 1,600 acres of County parkland in the City. Shawnee is one of two cities in Kansas to be designated as a Bicycle Friendly Community by the American League of Bicyclists. There are approximately 9 miles of on-street bike lanes, 41 miles of Share the Road and 26 miles of off-street bike trails. Shawnee also has two state of the art aquatic facilities: the Thomas Soetaert Aquatic Center and Splash Cove at the Jim Allen Aquatic Center. Other Shawnee attractions include its 24,000-square-foot Civic Centre, the Johnson County Museum of History, Wonderscope Children's Museum, the Ice Sports Arena indoor ice rink, the 3&2 Baseball Complex, Mid-America Sports Complex and Shawnee Mission Beach Volleyball.
Easy Access to the Heart of Kansas City
Shawnee's close proximity to the heart of Kansas City allows for easy access to various indoor and outdoor shopping centers, Kansas City International Airport and downtown Kansas City. Visitors are just a few short minutes from a host of restaurants and eating venues within the community. From the new Hereford House and Paulo and Bill's all the way to Sheridan's Custard – the City has a host of eating out opportunities for families and seniors, whether it's a hometown café like Pegahs or Fogones, to the kid friendly environments of Ruby Tuesday's or Chili's, to something more unique like Japanese or Korean cuisine – there are plenty of opportunities to grab a quick meal, or a more relaxing Friday night beer with friends in a place where kids are welcome.
Wherever you are in life. Whatever your dreams. Whether you're starting a family or raising a business, hitting your first home run or running off to your next adventure, everything you need is right here - in a place where life takes off and great things begin. Shawnee, Kansas...Good Starts Here.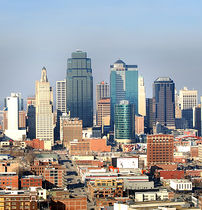 ---
Enjoy it all! Shawnee Mission provides residents with a laidback community lifestyle, while providing all the conveniences of Kansas City.