2014 AANP National Conference, Nashville, TN – June 17 - 22, 2014
Approximately 5,300 Nurse Practitioners and students have gathered at the Gaylord Opryland Resort and Convention Center in Nashville, TN, for the largest NP-focused event in the country, the 2014 AANP National Conference! All week, nurse practitioners will have the opportunity to access 250 concurrent sessions focusing on continued education, skill enhancement, cutting-edge technology, and opportunities to network.
Conference programming will feature many key speakers, including a call to action by Scharmaine Lawson-Baker, DNP, FNP-BC, FAANP, where she will discuss the barriers and opportunities she encountered when opening the first house call practice in the state of Louisiana. Teresa Gardner and Paula Meade will also be sharing a special look into their experience as nurse practitioners when they traveled Appalachia delivering free primary care services via the Health Wagon, which was recently spotlighted on 60 Minutes.
Fully embracing the heart of Nashville, Martina McBride will entertain AANP conference attendees at an exclusive event on the evening of Wednesday, June 18th.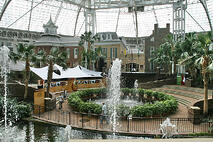 EMrecruits invites you to visit us at the 2014 AANP National Conference Booth 526 to learn more about the opportunities we represent! Lori Carlyle and Chase Gallatin will be available to help you determine which of our available emergency medicine nurse practitioner jobs is the best fit for you. Everyone that visits the EMrecruits booth will also have the opportunity to register for our giveaway of a GoPro HERO3 action camera!
Be sure to plan your week now to experience all that this one-of-a-kind American city has to offer. We recommend these Top 10 Unique Things to Do in Nashville:
1. Country Music Hall of Fame and Museum
This isn't just a museum; it's an experience with something for everyone. Rhinestone costumes, seasoned instruments, and tear-stained lyric sheets are only the beginning, as the museum is home to the largest collection of country music artifacts in the world.
Don't miss the Music City Walk of Fame across the street in Walk of Fame Park, where music celebrities who lived, worked and played in this city are commemorated with sidewalk stars.
3. RCA Studio B
Take a tour of Music Row and visit historic RCA Studio B, the famous recording studio where Elvis recorded over 200 songs. Roy Orbison, Dolly Parton, Chet Atkins, Eddy Arnold and many more recorded classic hits here. Not surprisingly, the heartbeat of Music City is driven by music—from country to classical.
In Centennial Park, you'll find the world's only full-scale reproduction of the ancient Parthenon in Athens, Greece. The Parthenon houses an art gallery and museum as well as Alan LeQuire's Athena Parthenos. Standing at almost 42 feet in height, Athena is the tallest indoor sculpture in the Western world.
One of the most unique ways to hear music is at a songwriters show. Typically called a "writers night", songwriters are put somewhere where they are not used to being - in the spotlight. Several singer/songwriters will play 'in-the round' as they sit on stage accompanied only by a microphone, a guitar and their immense talent. These shows can be found in small, intimate clubs all over town.
6. Nashville Municipal Auditorium
Honoring musicians from stars to studio players that represent all genres of music, the new Musicians Hall of Fame and Museum is housed in the Municipal Auditorium. From Hank Williams, Sr. to the Red Hot Chili Peppers, Motown to Southern Rock – there is truly something of interest to everyone. Pay homage to the Man in Black at the new Johnny Cash Museum located on 3rd Avenue. Featuring the most comprehensive collection of Johnny Cash artifacts and memorabilia in the world, this is THE Cash venue to visit for all ages.
The Ryman Auditorium, also called the "Mother Church of Country Music," has had artists as diverse as Jon Bon Jovi and Johnny Cash perform on its legendary stage since 1892. You can take a backstage tour and record your own song in the Ryman recording studio.
The stars of the Grand Ole Opry perform every Tuesday, Friday, and Saturday night at the Grand Ole Opry House (February-October) with guest appearances by the biggest names in music. With 89 years under its belt, it's the world's longest-running radio broadcast and shows no signs of slowing down.
Tootsie's Orchid Lounge, Legends Corner, Second Fiddle, The Stage, Bluegrass Inn and Robert's Western World are all experts at serving up cool longnecks and hot country music. You never know who you'll see in these Lower Broadway clubs in the shadow of the Ryman. Willie Nelson, Kris Kristofferson, Gretchen Wilson, Dierks Bentley and other stars began their careers on Lower Broad.
10. The Hermitage, Home of President Andrew Jackson
Three U.S. Presidents called Tennessee home - Andrew Jackson, James K. Polk, and Andrew Johnson. You can revisit the past at The Hermitage, Home of President Andrew Jackson. Polk is buried on the grounds of the historic State Capitol building.