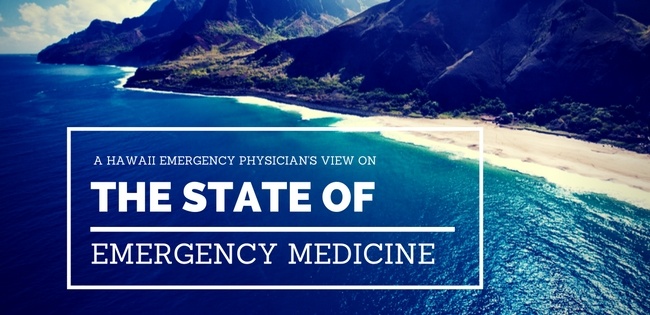 While emergency medicine is still a relatively young specialty, it has undergone multiple changes since it was first recognized as a specialty in 1979 by the American Board of Medical Specialties. What have been the greatest achievements and biggest challenges over the last 37 years? That's what we wanted to find out when we reached out to the physician leadership team at our Hawaii emergency medicine group, Hawaii Emergency Physicians Associated.
A Hawaii Emergency Physician's View on The State of Emergency Medicine
Kathleen Katt, MD, FACEP, is an emergency medicine physician who'd been practicing for 31 years. She joined Hawaii Emergency Physicians Associated (HEPA) 11 years ago and is now the group's Vice President of the Big Island. During her time in practice, she's witnessed the various changes the specialty has gone through.
What do you consider the most rewarding aspect of practicing Emergency Medicine? We are really needed in our community. We save life's.
What do you consider the hardest aspect of practicing Emergency Medicine? Pediatric illness, injury, neglect and abuse. The nicest people always seem to have the worst diagnosis.
What do you think the future of Emergency Medicine looks like 10 years from now? Algorithm based, protocol driven, computer centered with technicians and mid level providers interfacing with the majority of patients.
What do you consider the greatest advancement you've seen in Emergency Medicine as a specialty? Ultrasound
What do you consider the biggest challenges currently facing Emergency Medicine as a specialty? Creating our niche in the spectrum of health care, obtaining a user friendly electronic medical record that promotes safety and efficiency and improves quality.
How do you combat / avoid burnout? I make sure to make exercise a priority, laugh everyday, and focus on the big picture .
How has the Affordable Care Act affected Emergency Medicine? Good or Bad? It should provide better preventative care to more patients so in the long run bring overall better health to our people. That is good. It is bad that we are not considered a valuable component in the health care spectrum.
What is your viewpoint on freestanding EDs? I think they are fine. Especially if they are meeting a niche for the health care consumers.
Interested in working alongside Dr. Katt? View HEPA's current emergency medicine jobs in Hawaii or send a copy of your CV to HEPA@EMrecruits.com.
HEPA is always looking for quality ABEM emergency physicians that share their dedication to nurturing the next generation of quality emergency physicians and to meeting the ever-changing healthcare challenges of our time. HEPA is an independent, democratic and physician-owned group with more than 80 ABEM physicians and the oldest and largest ED group in Hawaii.