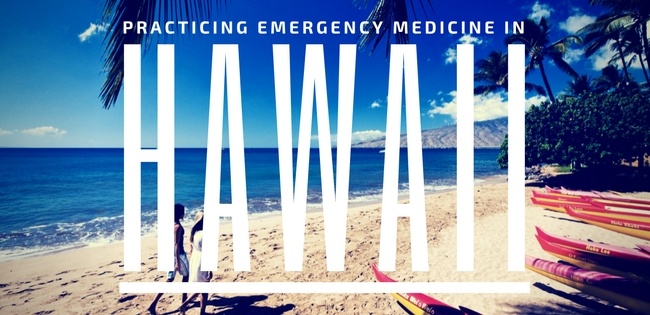 People dream of living on the Hawaiian Islands, but how many people make the leap and actually do it? Hawaii Emergency Physicians Associated (HEPA) is an independent, physician-owned emergency medicine group of over 80 ABEM physicians that have made that leap. They enjoy a great quality of life living in one of the most beautiful parts of the world, while practicing emergency medicine across multiple emergency departments in Hawaii.
We recently reached out to a member of HEPA's physician leadership team to find out why they were originally interested in joining HEPA's team of emergency physicians and why they've stayed with the group for so long.
A Physician's Experience Practicing Emergency Medicine in Hawaii
Kathleen Katt, MD, FACEP, is an emergency medicine physician who'd been practicing for 31 years. She joined Hawaii Emergency Medicine Associates (HEPA) 11 years ago and is now the group's Vice President of the Big Island. During her time with the practice she's gained valuable knowledge about practicing emergency medicine on the Hawaiian Islands.
Why did you choose to join HEPA? They said they were developing a fair, democratic, and transparent group. Those were very important characteristics that I was looking for.
Describe the team environment / culture at HEPA? Collegial, supportive, and at times really fun!
Which facility is your favorite to work at? Why? Hilo Medical Center Medical Center, because I can ride my bike, the hospitalist and nursing staffs are fantastic, and the atmosphere can be a lot of fun!
Describe your most interesting patient encounter? There are too many too count!
What is your favorite part about living in Hawaii? Why? Everything about the Aloha spirit! The Hawaiian culture, clean air, clean water, healthy food, fresh fish, great surfing, scuba diving, great mountain bike riding, and there are more churches than banks.
What are some things that are unique to practicing Emergency Medicine in Hawaii? Tropical Medicine, multicultural, poor to no primary care so we see all the end stage ramifications of untreated diabetes, cancer, asthma, HIV, etc.
Interested in working alongside Dr. Katt? View HEPA's current emergency medicine jobs in Hawaii or send a copy of your CV to HEPA@EMrecruits.com.
HEPA is always looking for quality ABEM emergency physicians that share their dedication to nurturing the next generation of quality emergency physicians and to meeting the ever-changing healthcare challenges of our time. HEPA is an independent, democratic and physician-owned group with more than 80 ABEM physicians and the oldest and largest ED group in Hawaii.