ACEP 2016 Promises to be a Premier Event for Emergency Physicians
In October, over 8,000 emergency medicine physicians will meet in Las Vegas for an experience unlike any other. Whether you are a seasoned practicing physician or a resident attending for the first time, you will find new ways to learn, new opportunities to network, and new reasons to build a solid foundation within emergency medicine by attending the 2016 ACEP Scientific Assembly.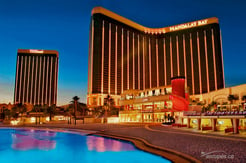 Along the Las Vegas Strip, this years event will be held at the Mandalay Bay Resort and Casino from October 16 - 19, 2016. The ACEP 2016 curriculum will consist of clinical, as well as essential management and risk management tools to aid your day-to-day practice.
When not attending educational courses, skill labs and workshops, the exhibit hall is a popular destination for ACEP attendees wishing to extend their educational experience or seeking new career opportunities.
Top 3 Reasons to Visit the ACEP 2016 Exhibit Hall:
Discover the latest technology to be implemented into the practice of emergency medicine.
Nationwide career opportunities with independent, democratic groups within traditional EDs, freestanding EDs, etc.
Learn about the newest pharmaceuticals to hit the market.
In addition to learning about career opportunities, attendees will also have the opportunity to meet directly with emergency medicine group owners and leadership in an informal interview setting at EMrecruits Booth #S2421.
Not yet registered for ACEP 2016? Secure your spot today.