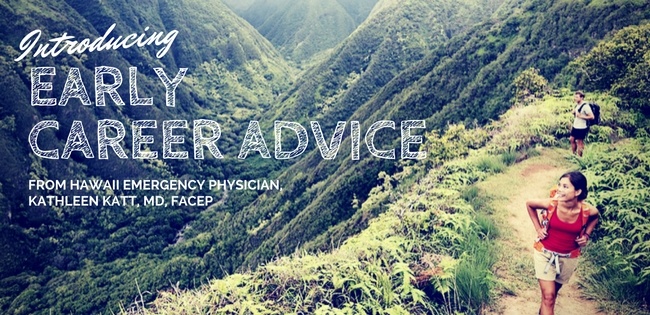 The beginning of a physician's career is full of unknowns. What would emergency physicians tell their younger-selves if they had the knowledge they have now? That is exactly what we wanted to find out when we reached out to the physician leadership team at our Hawaii emergency medicine group, Hawaii Emergency Physicians Associated.

Early Career Advice from a Hawaii Emergency Physician
Kathleen Katt, MD, FACEP, is an emergency medicine physician who's been practicing for 31 years. She joined Hawaii Emergency Physicians Associated (HEPA) 11 years ago and is now the group's Vice President of the Big Island. During her time in practice she's gained valuable knowledge and advice for medical students and residents just beginning their journey in medicine.
What advice would you give medical students who are selecting their specialty? Match your personality to your specialty.
Why did you choose Emergency Medicine as a specialty? I have the ability to save lives and enjoy fixed hours. When I leave a shift, I'm done. Since I don't see personal patients, I can take off as much time as I need without abandoning my patients.
If you were just starting residency now, what would you do differently? I'd demand training to diminish burnout and PSTD. I'd discuss the mental trauma of working in the ED and it's raw exposure to the human condition and our small impact in this realm, end of life decisions, and palliative care training.
What was the most rewarding part of residency? I appreciated having an attending to bounce ideas off of and to learn new things from.
What was the toughest part of residency? It requires you spend a lot of hours away from your family.
What advice would you give 3rd / 4th year residents as they start interviewing? I'd say look at the group structure, reimbursement pattern, scheduling and time-off policies. Pay close attention to make sure they are fair, transparent, democratic, physician-owned and operated. Avoid groups that are seniority-based and watch for the number of people dipping into the money you earned for the group.
Who gave you your best career advice? What was it? My father. He always stressed that delivering excellent care to the patient should be your top priority in all decisions.
Interested in working alongside Dr. Katt? View HEPA's current emergency medicine jobs in Hawaii or send a copy of your CV to HEPA@EMrecruits.com.
HEPA is always looking for quality ABEM emergency physicians that share their dedication to nurturing the next generation of quality emergency physicians and to meeting the ever-changing healthcare challenges of our time. HEPA is an independent, democratic and physician-owned group with more than 80 ABEM physicians and the oldest and largest ED group in Hawaii.