Join the Rebellion in EM |

1st Annual Event at The Pearl Stable, San Antonio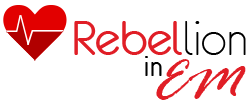 We're only a few weeks away from the Rebellion in EM -
the 1st Annual Emergency Medicine event focused on

tackling current research as well as dispel common myths and misperceptions in EM clinical care
. The fun will be kicking off at
The Pearl Stable
on
May 12th, 2018.
#Rebellion18 will be a weekend event you won't want to miss, with
20 minute interactive lectures that qualify for up to 19 hours of CME/CEs
focused on clinical based content that provides an educational experience (specifically designed by Emergency Medicine Physicians) that
you can use in your daily patient care.
The
Speakers
are leading experts and the biggest names in emergency medicine who will be talking about currently trending issues in Emergency Medicine including:
TSOACs, DOACs, NOACs…Oh My: New Direct Oral Anticoagulants
Pediatric Fever Through the Ages

Hemorrhagic Stroke: Current Literature and Updates in Management

Current Drugs of Abuse: What's New on the Streets?
Sepsis Care in 2018: What Happened to SIRS?
Acute Pain Management in the ED: Opioid Sparing Options and much more.
Rebellion in EM is
committed to critical appraisal of current research with application at the bedside to improve patient care. The constant influx of new published research makes it difficult to stay current with the latest and greatest
Register Now or Click Here to view the full course schedule in its entirety.