Top 5 Thrill Seeking Experiences in Las Vegas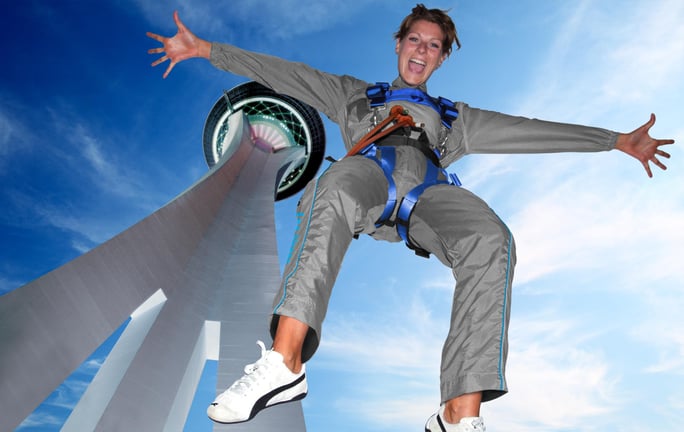 The thrills in Vegas don't come solely from games of chance. Far from your regular Six Flags experience, Las Vegas is its its own electrifying amusement park, and most of it is outside of the gaming rooms.
From racing around a track in an exotic car like Jeff Gordon, to dropping 855 feet off the side of a building, to loop-de-looping through a massive replica of the New York City skyline, these Las Vegas thrill rides offer something for everyone's brand of excitement.
Location: Stratosphere Las Vegas, 2000 S. Las Vegas Blvd, Las Vegas, NV 89107
Reservations: 800.99.TOWER (800.998.6937)
Cost: $119.99 / jump
Are you up for the big jump? The wind'll go whoosh. You'll go $#!@%. Or yippee. Or yeah. Or yikes. Chances are you'll be screaming something close to bloodcurdling when you take the leap. But the Stratosphere's new SkyJump will be the trip of your life—no matter what you might be yelling… when you experience their controlled free fall from the 108th floor.
Location: Las Vegas Motor Speedway, 7000 Las Vegas Blvd. N., Las Vegas, NV 89115
Reservations: 702.605.3000 | info@dreamracing.com
Cost: Starts at $129 (ride along) or $199 driving experience
Dream Racing is the five-star driving experience at Las Vegas Motor Speedway and features the world's largest selection of Supercars and the only one where you can get behind the wheel of a real racing Lamborghini, Ferrari, or Porsche Racecar. No matter which package you choose, they promise to deliver you a once-in-a-lifetime exotic car racing experience. Don't miss this unique opportunity to try your hand at racing their exotic cars.
| GIVEAWAY | Attending the 22nd AAEM Scientific Assembly on February 17-21, 2016?
We're giving away a Dream Racing Experience (up to $500) to one lucky winner. Register today and the winner will be announced on February 16th! (Must be a physician or advanced practice provider to enter.)
Be sure to stop by the EMrecruits Booth #203 in the AAEM16 exhibit hall to see Bobby Anson and JD Kerley. They'll be available to discuss our openings with independent, democratic emergency medicine groups across the nation.
Location: 200 Convention Center Dr., Las Vegas, NV, 89109
Reservations: 702.731.4768 | reservations@vegasindoorskydiving.com
Cost: Starts at $75 / person
Ready to earn your wings? Experience the thrilling sensation of skydiving, without a parachute or airplane, as a 1,000 horsepower motor keeps you soaring through air in America's original indoor skydiving facility. The propeller turns on and the air begins to flow. You're floating, flying, free falling through the air with wind speeds up to 120 mph.
Location: New York-New York Hotel & Casino, 3790 S. Las Vegas Blvd, Las Vegas, NV 89109
Call Ahead: 702.740.6616
Cost: Starts at $14 / person
Located on the popular intersection of Tropicana Ave. and Las Vegas Blvd., the Big Apple Coaster at New York-New York is hard to miss. The ride begins with a steep hill, building great suspense and anticipation. Enjoy the aerial view of the south end of the Strip while you can, because before you know it, you're plummeting down a 144-foot drop. The intensity continues with loops, corkscrews and hills, speeding up to 67 miles per hour. (formerly the Manhattan Express)
Location: 30 minutes from the strip, 1644 Nevada Highway, Boulder City, NV 89005
Reservations: 702.293.6885 | office@flightlinezbootleg.com
Cost: $159 / person
It's time to Zipline over the Mojave Desert. All participants will complete four different ziplines. Between the four runs guests will cover over 8,000 feet (1.5 miles) as you travel at speeds up to 60+ mph down the Red Mountains in Boulder City, NV. The whole experience will last around 3 hours. There is some moderate hiking in the beginning to get to the first zipline.