Leading Edge Medical Associates | Clinical Locations
---
Good Shepherd Medical Center - Longview
Clinical Director: Dr. Greg Payne
The Emergency Department of Good Shepherd Medical Center Longview treats over 80,000 patients yearly, making it one of the busiest in the state of Texas. The department serves as the cornerstone of Good Shepherd Medical Center's Level II Trauma Center and includes a 30 bed acute unit and a 10 bed Minor Emergency Center (MEC). The acute unit consists of 24 treatment rooms, two triage areas, two trauma bays, and four OB/GYN rooms. Diagnostic imaging services housed in the ED include two X-ray rooms and a CT scanner room. The acute facility is equipped to treat critical and non-critical medical, surgical, trauma, infant, pediatric, geriatric, and adult patients. The MEC is located adjacent to the acute bed unit and is designed to provide services to patients requiring urgent diagnostics and minor procedures.
Physicians provide 54 scribe assisted hours of clinical coverage daily. Advanced Practice Providers add 36 hours of daily clinical coverage. The Emergency Department exudes a spirit of cooperation and our physicians can be confident in the backup coverage provided by a complete array of specialists and sub-specialists. Physicians working the Longview campus provide medical care to an average of three patients per hour. GSMC-Longvew serves as a teaching hospital with medical students and Internal Medicine residents rotating through the Emergency Department.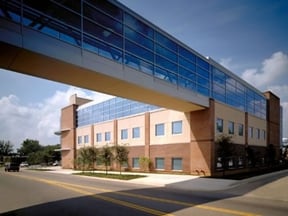 GSMC Longview Emergency Department
700 East Marshall Ave.
Longview, TX 75601
Main Number
(903) 315-2020