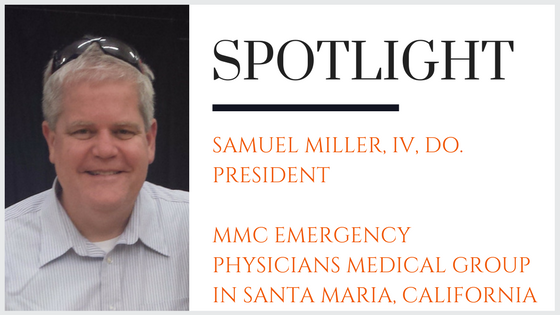 SPOTLIGHT: Sam Miller IV, DO - President - MMC Emergency Physicians
Will you be attending ACEP17 in Washington, DC?
If so, make time to come by Booth #1107 and meet Dr. Sam Miller, President of MMC Emergency Physicians Medical Group in Santa Maria, California. He will be available to speak with you face-to-face and discuss the emergency physician openings within his group.
Don't Wait! Schedule your time today by emailing a copy of your CV to MMCEPMG@EMRecruits.com.
Sam Miller IV, DO
Medical School: Western University College of Osteopathic Medicine of the Pacific
Years in Emergency Medicine: 14 years
Number of Years with Group: 10 years
Current Position: Medical Director, President
Who gave you your best career advice? What was it?
My Father, "If you go to medical school and residency or work flipping burgers, in ten years you will either be a physician or flipping burgers. You might as well go to medical school. Consider yourself a commodity, specialize and make yourself needed and easier to sell."