EMR | Who is Leading the EHR System Market?
During my IT update presentation at the 2014 PSR Leadership Conference, the following illustration was shown to depict current trends in Electronic Health Record (EHR) systems, dated March 2014. What we discovered was that Epic is the market leader right now with 19.1% of the market. This is from a hospital basis, which would include emergency departments, but is really the overall hospital EHR system.
A Quick Breakdown: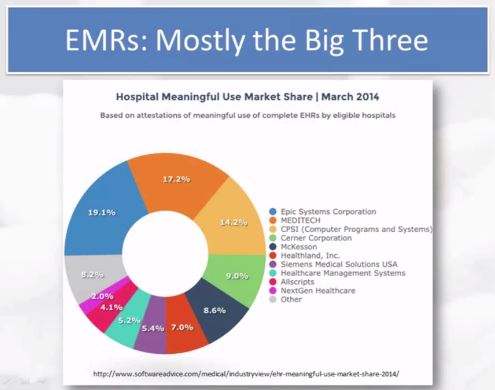 The pie-chart above gives a sense of that there is a general focus on three systems in today's market – Epic, MEDITECH, and CPSI. This show that there is continuing to be consolidation in the market.
Epic System Corporation - 19.1%

MEDITECH - 17.2%

CPSI (Computer Program & Systems) - 14.2%

Cerner Corporation - 9%

McKesson - 8.6%

Healthland, Inc.- 7%

Siemens Medical Solutions USA - 5.4%

Healthcare Management Systems - 5.2%

Allscripts - 4.1%

NextGen Healthcare - 2%

Other - 8.2%
A Few General Notes:
Physician modules are still problematic, but continuing to improve

Scribes continue to be the best short-term answer for getting through EHR headaches

Dragon+, with some add-ons, has proven successful

We're starting to slowly see the sun setting of Scribes through long-term use of EHR systems
Want to learn more about PSR's observations on current healthcare trends? Check out the links below to discover more: